CONTACT US
Please visit us at our offices on Route 8 South, in downtown Stuart or contact us by
the information provided below.
Telephone: (276) 694-7158
Fax: (276) 694-3963
138 S. Main Street
P.O. Box 267
Stuart, VA 24171
info@clarkbrotherscompany.com
It is our hope that you'll consider Clark Brothers Company, Inc.
for your next construction project.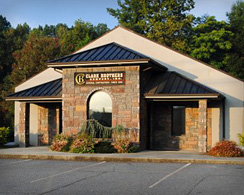 138 S. Main Street - Stuart, VA